Our Partner – Koenig & Bauer AG
Our Partner – Koenig & Bauer Sheetfed
Koenig & Bauer Sheetfed
Koenig & Bauer Sheetfed is a provider of printing machinery for the international print and packaging market with the broadest spectrum of solutions available.
Koenig & Bauer Sheetfed's history dates back over 100 years ago. Koenig & Bauer Sheetfed built the first printing machine ever and continued innovation to the current date. Today, Koenig & Bauer Sheetfed is the world's most important player in the field of high-tech printing machinery, and full scale print automation. Koenig & Bauer Sheetfed enables print service providers to employ machinery customized to their needs. With its portfolio in industrial web, sheetfed offset, flexo, and digital, Koenig & Bauer Sheetfed is well equipped to serve the needs of the graphics industry in the long run.
Koenig & Bauer Sheetfed also supports System Brunner's mission in reducing waste and energy consumption during print production.
Koenig & Bauer Sheetfed and System Brunner have a long and successful history of partnership in providing the best technology to the print and packaging market.
With the basic equipment of QualiTronic / ErgoTronic, color control is only done in accordance with the individual solid ink densities of each ink.
However, thanks to the partnership with System Brunner, new and more enhanced color control solutions are optionally available to the user, combined with the control console 2. These Color Management solutions lead to a higher color automation in print production with optimal visual appearance and match of international Standards like GRACoL-G7, ISO-PSO or any preset definition.
In combination with the Koenig & Bauer control console 2, the Instrument Flight® / PSO-Match software has been completely redesigned and functionally expanded. It is operated from a separate touchscreen monitor, which makes the application even more user-friendly.
System Brunner is proud to partner with Koenig & Bauer Sheetfed.
System Brunner Products with Koenig & Bauer Sheetfed
ErgoTronic Instrument Flight

® Online

QualiTronic Instrument Flight

® Inline

ErgoTronic PSO-Match™

Online

QualiTronic PSO-Match™

Inline

System Brunner Hypersphere

® RGB-based Color Evaluation and Control Technology

Print Expert® Consulting Services
Koenig & Bauer Sheetfed Instrument Flight® Implementation
Easy Job Setup in less than 10 Seconds
Touch-based user interface. Tab to confirm or adjust job-setup and you are ready to go.
All recommended Density Adjustments at a Glance
The recommendation view shows necessary changes to be carried out in order to match the best possible printing result.
Process Analysis and Graybalance in one View
The Hexagon-View gives a full overview of the current state of color in terms of overall printing quality, standard compliance, visual quality and graybalance. The Hexagon-View not only tells you what the result is. It also shows what the reason for eventual deviations are.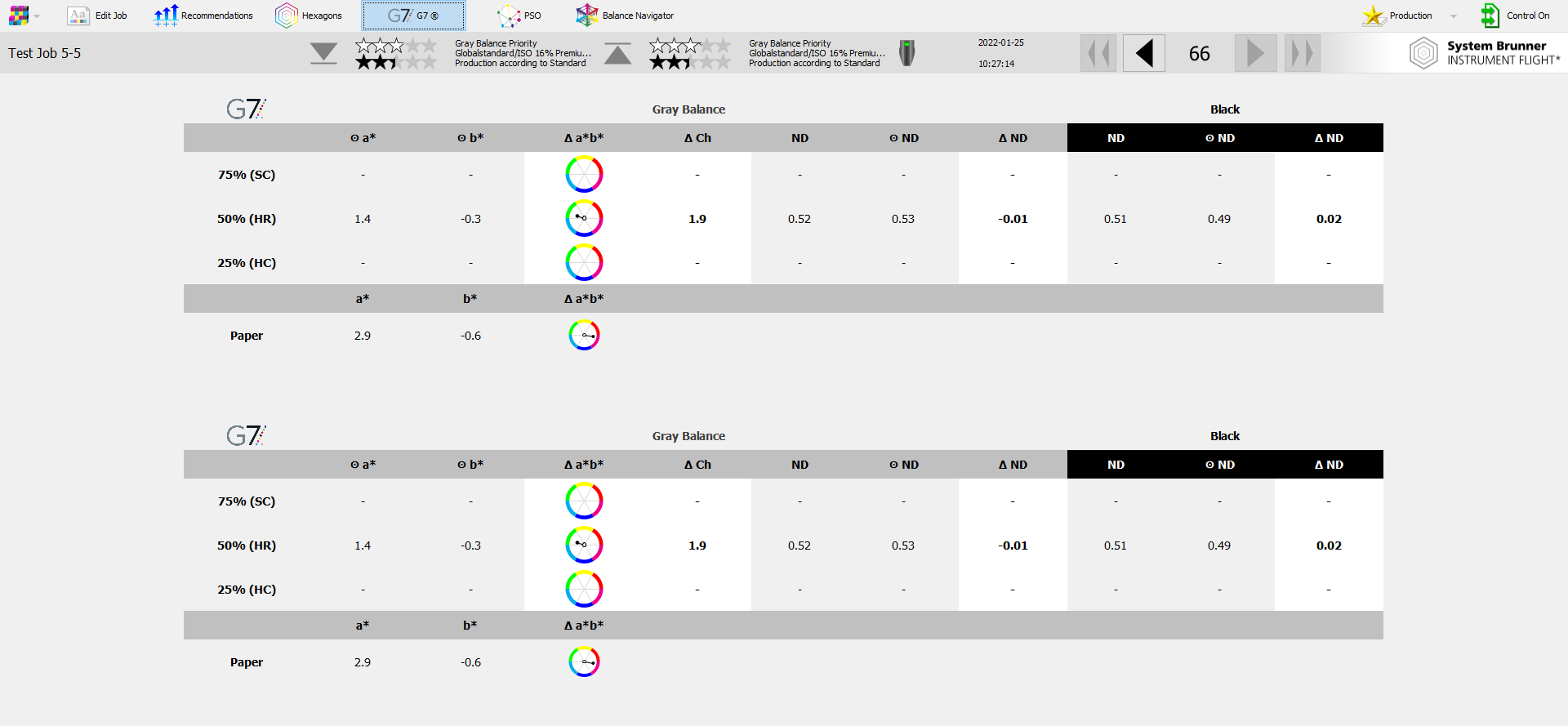 Real-Time G7® Compliance Check
Printing test forms to know where you're at is expensive and doesn't reflect your actual production. The System Brunner G7®-View tells you in real-time how well your current printing result matches G7® requirements. For each and every job.
On-The-Fly Reporting
Can you actually match this particular color with the given printing condition? What can be optimized? Prepress and color experts love it. Deep parameter analysis including gamut representation, printing-standard compliance, graybalance, colorscience, and TVI at a glance.
Color Adjustment and Fine-Tuning can't be easier
System Brunner's BalanceNavigator® is the state-of-the-art tool enabling press operators to match proofs, printing samples, or just any desired color balance super easy and intuitively. Modify colors visually or precisely by CIE-Lab deltas. No complicated translation between amounts of process color to match intentions. Just point the slider to where you want the color to go.
Job Reporting 4.0
Job reports with added value. Instrument Flight® creates PDF job reports automatically at the end of every job* that will give your customers a clear picture of the compliance of the whole production to customers' requirements. System Brunners' job reports show how well the production went in terms of visual consistency and technical terms.
*new since Instrument Flight® V. 4.0